Here it is: my first time writing and illustrating a children's book! Not only that – I got it printed so I could hold it in my own hands! (And give it away – more on that soon.)
I'll admit that I surprised myself by what I have achieved in the past couple of months. I swerved and started a new project. A totally different one, at that. From writing horror flash fiction, to a contemporary novel, then a children's book… you may think I can't seem to stay in my own lane. And, you'd be right! But why can't we all try many different pursuits and see where it leads us? Creativity has no bounds, no rules, and – most importantly – it has no business being locked up in someone's mind (or notebook) instead of out there in the world for people to enjoy.
Introducing…
Amelia the Chameleon Makes Mischief in Paris
Written and illustrated by Alissa Smith
"Amelia the chameleon can move quickly, see in all directions, and blend in with her surroundings. She likes to make mischief and play tricks on others! But… when Amelia sees someone else causing trouble at the Louvre Museum, can she use her amazing abilities to be helpful? Follow the cheeky chameleon's adventures in Paris with a fun story and visual feast."
© Alissa Smith / Wonder Design 2022
So, how did I write and illustrate a children's book? More importantly – WHY?
The Backstory
Let me take you back to the beginning. In 2013, I visited Sarah – my friend since childhood – who was living in London at the time. Together we travelled to Stockholm, Paris, Rome, Florence, Venice, Vienna, and Berlin. It was a wonderful trip. There's something about a change of scenery and new experiences that stimulates the creative mind. On the plane ride home to New Zealand, I was inspired to write – just like in 2018, when I started writing a novel after an overseas vacation.
I took out a notebook I'd bought in Paris – featuring Tournée du Chat Noir de Rodolphe Salis in honour of my black cat Raven – and began jotting down my thoughts. There was a persistent idea for a story that I had to get down, about a clever chameleon getting up to mischief in Paris. My experiences in the French city were still fresh in my mind. Once I started writing, I didn't stop until I'd reached the end. And so, Amelia the Chameleon was brought to life.
I later transcribed the story to my computer as an electronic copy in case I ever wanted to develop it further. There it stayed, in the digital graveyard of unfinished creative projects (there are many, oh so many).
Skipping forward to 2020, Sarah and her husband returned home to New Zealand. They welcomed their baby daughter the following year. By sheer chance, they named her Amelia. It wasn't until later in the year that I put two and two together, realising the happy coincidence. This was the perfect opportunity to bring Amelia the Chameleon into fruition. I decided to produce a children's book for baby Amelia as a first birthday present. At the very least, it would be a fun project and a nice gift. Unfortunately, I left it very late to start and it was a mammoth task!
How I wrote and illustrated a children's book
The story
Let me just preface this section by saying, this is not the usual or expected process if you are planning to pitch an idea for a children's book. Instead, follow the guidelines from the publisher for submitting a manuscript. I went wayyy further down the track. My intention was to have the finished product in hand, not to promote it publicly at this stage. Anyway, here's how I did it.
The raw version of Amelia the Chameleon needed editing to tighten it up. I took the "less is more" approach by cutting out all the fluff and filler words, and drilled it down to the point. Paragraphs became sentences and sentences became a few words. Once the story was more digestible, I began laying it out in Adobe InDesign (on an Apple Mac).
The format
As an experienced graphic designer, I have produced booklets and formatted a number of children's books in the past. A key factor in book printing is that the number of pages needs to be divisible by four. To put it simply, imagine a wide piece of paper folded down the centre. Now you have the back left, front left, front right, back right. That's four pages. In printing, the pages are stacked this way and bound. If that makes no sense, don't worry – the graphic designer will take care of it. The finished size of this book is A4 landscape (297mm wide by 210mm high, plus 3mm bleed all around).
This planning stage was fairly time-consuming. I had to decide which section of the story would be accompanied by illustrations, whilst keeping it nicely balanced across the spread. There's a lot of thought that needs to go into spacing, perspective, hierarchy, colour versus white, breakout sections, and more. There must be a consistent format for margins and alignment, however, if every page has an identical layout it can look monotonous. It's important to have variety within the constraints of the overall template. Some pages may be busy with colour and detailed illustrations, whereas others will contrast with a simple, striking, oversize image and a basic background.
Once the layout was planned, I chose a body copy font called Sassoon Sans. It's clean and easy to read for young developing eyes. It also features the favoured single-storey letter "a". This is complemented with a more energetic font called Kid Lit Alphabet. I took a unique approach and used this bouncier font for dialogue, rather than using quotation marks. There's not a lot of dialogue – mostly exclamations – so I feel this works well.
The pictures
Next came the illustrations. There are a few specific characters in the story, and our cheeky protagonist is a chameleon. When I wrote the children's book I had it in mind that the chameleon was hitching a ride amongst people in crowds. However, as I began to visualise the scenes, I wanted the ability to scale down some of the characters Amelia was interacting with so I decided to make them all into animals. That was a lot of fun to illustrate and offered more opportunity for creative quirks. The story itself is kept simple and unspecified. For example, the antagonist is a thief, illustrated as a mandrill but referred to as only "the thief".
Each page or spread (depending on if the image was to run across two pages or not) was then exported as a jpeg and sent to my iPad via Airdrop. The pages were imported one at a time into Procreate and used it as a base layer so that I could avoid text areas or running too close to the edge of the page.
I was deliberate in selecting the colour palette, including colours from my Raven Books branding, to ensure consistency throughout the book. I didn't want to use black outlines as I find that to be quite harsh and it doesn't suit my style. Instead, I chose a lovely dark navy for the illustration outlines and the text colour. By adhering to the colour palette, I could ensure that the rosy red colour, used for the animals mouths and other features, was consistent throughout.
All of the scenes and characters were drawn in Procreate with an Apple Pencil. I like to use a lot of layers so that it's easy make changes if/as needed. Also, I prefer to keep the filled areas on separate layers from the outlines so that I can alter the colours, textures, shading etc without disturbing the lines. This ensures the edges remain clean and sharp.
Finishing
Once all of the drawings were complete (don't be fooled into thinking that was a quick process!), I exported them from Procreate as PSDs to retain the layers and dropped them back onto my Mac where I then began to work in Adobe Photoshop. I used a page templates for single or double pages, set up at the correct size (see above), including bleed, at 300dpi. The next stage was to fill the drawings with a combination of solid colours, high resolution textures, and photographic collage. Finally, the finished PSDs were linked back into InDesign on a layer beneath the text boxes.
The great majority of the textures (animal fur, faux leather, food, sky) and the photographic images (Parisian street scene, Louvre museum) were stock images purchased from Shutterstock. Others were from the public domain, such as the Mona Lisa.
Even though my children's book isn't yet commercially published, I wanted to ensure even at this early stage that there would be no issues with copyright or intellectual property. For example, I had the idea that Amelia the chameleon would ride on a Louis Vuitton handbag, camouflaged in Louis Vuitton's distinctive monogram canvas. I designed it and it looked really cool, but then I decided there was no use making trouble for myself and changed it to a red vegan leather. It still looks great and I'm happy with the result.
Printing the children's book
I sourced the printer before I started to project, so that I could get their guidance along the way. After a fair bit of research, I used a company called City Print, based in Wellington (I'm in Auckland). As it was, the process was very straightforward, mainly because of my experience in supplying print-ready artwork. I was absolutely thrilled with the quality of printing and finishing, as well as the service and quick turnaround time (I was very demanding because I was overdue!). I only printed a few copies for the gift and to have as samples, and opted for case bound (hard cover) which looks stunning. If the book was to be published in a larger run it would most likely be soft cover (perfect bound). The size and proportions of this book are perfect for little hands.
Writing and illustrating a children's book is something I've wanted to do for a very long time, so I'm glad I took a leap of faith and gave it a go. I couldn't be happier with how my treasured project turned out. The real-life Amelia loves it too.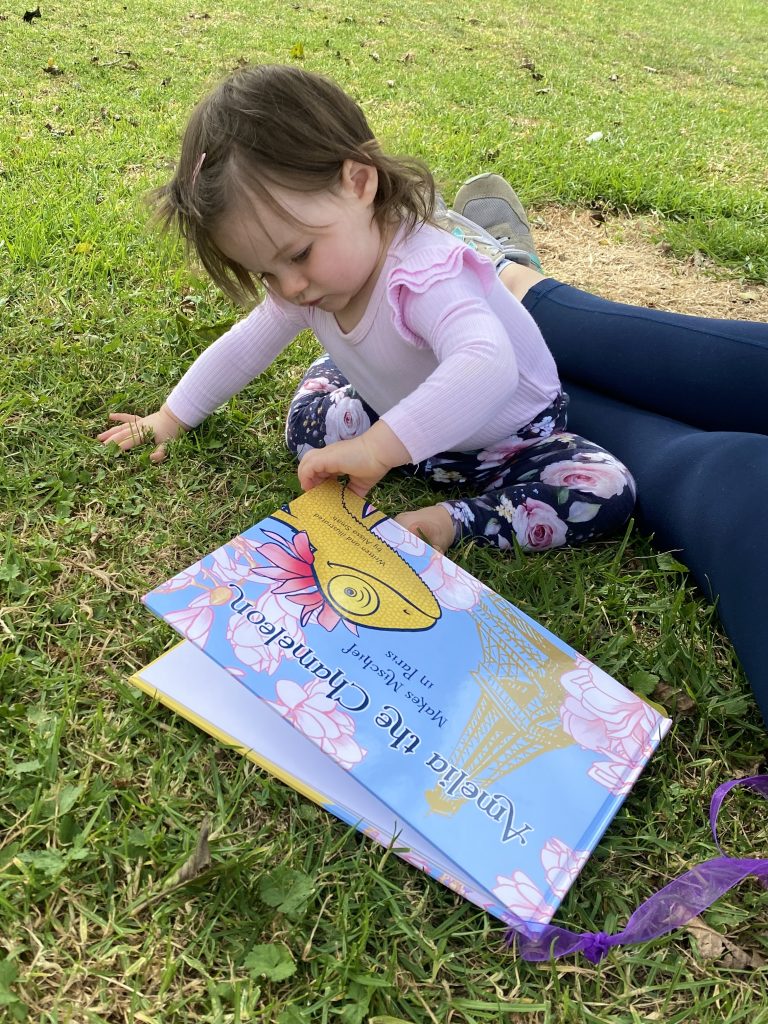 Next steps
Well folks, what do you think? Is Amelia the Chameleon worthy of being published? I would sure love to take it further and put it out there into the world – whether by traditional or independent methods. What's more, I have already started writing a second Amelia the Chameleon adventure!
If you would be interested in getting a copy of Amelia the Chameleon for the little kids in your life (or the big kids – there are no limits on enjoyment), please register your interest below!